Staying over at a foreign place would always sound scary to me, noting the possibility of existing non human form. I was glad that I had quite a fair bit of good sleep, albeit I remembered waking up in the middle of the night and got freaked out by the unidentifiable sound. I literally ran back to my room.
Sun shiny day!
Breakfast was served at the same restaurant where we had steamboat last night. Mesilau Renanthera Restaurant it was. I believe temperature had partially led me to think that breakfast was pretty decent; egg was cooked well, scrambled egg was great; nasi lemak was not too bad either.
My grumpy tanner half and Yours sincerely with Coco Crunch and milk
About half an hour or so, we collected our lunch boxes before meeting up with our mountain guides for the day. Tanner half and I paid the porter, which was also our mountain guide, to carry our 10+kg luggages up to Laban Rata for a fee of less than RM150 (if my memory serves me well). We bought a walking stick (broom stick or mop stick actually) each as well to assist in our climb for RM5 (I think!).
Mount Kinabalu mountain trail
The green light seemed to be forever as we waited for the queue in front of us dissipated. I reckoned it was another half an hour of delay before we actually first stepped foot on Mesilau trail. Tanner half and I were initially middle of our group but it did not take us long to overtake the front.
View of the mountain before the first 2KM sign board
At times, I slowed down and hoped to catch a glimpse of the rest but they were nowherer to be seen. Eventually I moved on with my tanner half as he wished to reach Laban Rata as early as he could should the altitude sickness attack.
Sad and tired mode at 2KM of Mesilau Trail
To be frank, the first 2KM sign board seemed like forever. The route for the first 2KM was not tough, to begin with. We thought we were quick enough as we bypassed those who were ahead of us, but no, the 2KM sign appeared after countless of "Are we there yet?"
Yours sincerely doing superwoman pose at the waterfall
To spice up things a little, I told my tanner half, "Let's take picture at every sign board" and he concurred. After 2.5KM sign board, I guessed my tanner half caught the sound of distance splash and the smell of damp air which he sped up for. Seconds later, I heard him shouting, "Look, there is a waterfall!". At that sheer moment, I quickened my footsteps to the refreshing prospect.
Soaking wet mosses
The sound of waterfall had this miraculous calming effect on me. My body felt energetic, so was my mind. I couldn't be more ready for the challenges which may come across our journey through the Mesilau trail. True enough, we reached our 3KM mark faster than we thought we would.
Two hangmen at Jambatan Gantung (Kipuyut)
OmaalibeeliiiOmmm!
Before we reached the next 0.5KM mark, we came across an unexpected flow of stream. Lying across the stream was this Jambatan Gantung (Kipuyut) where the naughty us decided to be a little dramatic. Hee, it was fun! Our long climb just got less dullish :D
Us again at 3.5KM and 4KM
The 5KM mark was unique, I must say. Instead of another wooden mark, it was a huge hut, namely Pondok Lompoyou. Before we managed to reach the shelter, the sky started to drizzle. I could sense the imminent pang of hunger it was about to strike. I quickened my foot step, and as usual, I lost sight of my tanner half.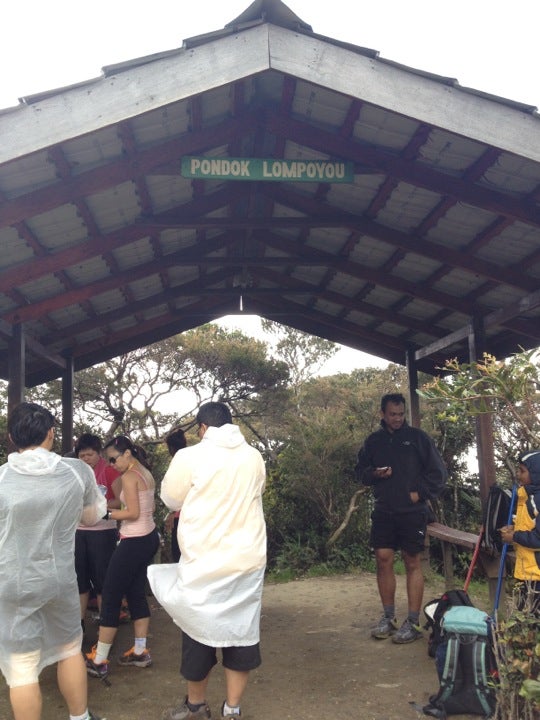 Pit stop at Pondok Lompoyou
I waited for what seemed like 10 minutes or so before I finally caught sight of my tanner half. Before he appeared, I had already started performing magic on my lunch box. Slowly, my sandwiches was gone, my apple was gone, so was my bananas! We were almost running out of water at this point of time. Instead of risking ourselves dehydrated, we refilled our bottles with the slightly murky natural water.
Tired him, excited me at 5.5KM mark
After resting for another 10 minutes or so at Pondok Lompoyou, the drizzle started to stifle. We bet it was a good time to move as there might got heavy pour on the way up for the next quarter of our journey. The exhaustion started to take hold of my tanner half while me being hyped and all. Oh, did I mention that I bumped into another 10 group mates whom I started to talk and tease with? One of the guys even gave me his raincoat *touched*
The convergence of Mesilau trail and Timpohon trail
2KM more to go, yes! It was an exhilarating fact that I managed to hike despite the slightly dragged speed. However, my poor tanner half started to experience slight headache and the first thing he asked for was high altitude sickness pill. We rested for awhile before we plowed on.
Eh, terbalik KM mark?
Instead of 6KM mark, what was indicating here was somewhat unusual. Confused I was as it started to "reverse", if I may put it that way. Nonetheless, the altitude was getting higher and higher and the climb was getting steeper but manageable. To be frank, the first 3KM was an easy walk before it started to venture into more and more steeper wooden staircases.
Wizard of Oz
As we went higher and higher, the landscape started to change; from damp floor to rockier surface, from green surrounding to slightly misty and duller atmosphere; not forgetting the temperature too! This Wizard of Oz scene was the most unforgettable stretch to me; surreal, yet mysterious. The more I indulged in it, I more I refused to move. Right now as I am typing here, I had the urge to go there again, which I know I would!
Mosses and mushimushiroomie!
Demurely so, little Miss Pine
Accompanied by Miss Orchid White
Despite the chilly mist wafting around us, my body was hotter than I expected it to be. My mind, on the other hand, couldn't be more happier looking at the pretty mosses, little pine, and orchid which dominated the 2KM stretch up to Laban Rata. Among all these pretty little plants, I was most impressed by the adaptability of flower at this altitude and I couldn't help but to stop and give them the attention they deserve.
Clouds on par with us! Luckily it did not rain
Soon we came to an open area where the rocky slope was nearly 45 degree. Every step I took was with utmost care; every step was angled to grip should any glitch happens. Once I had reached a safe spot, I turned around and all I was shouting in my mind was "Oh Maiiii God!". I couldn't believe I had came this far but yes, I was proud of myself!
The confusing 5.0KM mark and the rockier path ahead
1KM more to go but it felt like forever. Every step towards Laban Rata was so much laborious, thanks to the steeper prospect that laid ahead. What you saw here was considered decent. Imagine your body is exhausted after more than 6 hours of climb and you have 2 hours to rush to Laban Rata before the night fall...
The opposite trail which we ought not to take
0.5KM closer to Laban Rata!
Another 0.5KM to go, I wouldn't say it was short. The challenge laid ahead was getting treacherous and subconsciously I kept asking those strangers on the same path, "Are we there yet?". The answer I got was always, "I see nothing yet!". Never mind, I came this far, and I wouldn't give up. Just a few more steps and we shall scrumptious dinner and good rest!
View from Laban Rata Resthouse (3273m)
I was heard, I guess. An hour later, we were rejoiced by the shout of happiness from the stranger ahead of us! My feet were literally running on air and my heart cheered at every step I sped on. Our hard work was partially paid off, at last! No neighboring mountain, no sign of trees, we were above the level of cloud!
Hooray to Laban Rata Resthouse!
We took minutes to enjoy every single second at the open area of Laban Rata; the air, the view, and the feeling of accomplishment; but the greater view had to be from the balcony, in the cold breeze, which you would be presented soon enough :)
Sunset from the balcony
The whole inner dining area was packed with people, fighting for tables, chairs, food and also warmth. We, on the other hand, adopted another strategy, which was to take the alfresco area. You must be wondering, "Why are you sacrificing warmth by grabbing a seat outside?" but my answer was obvious. The view of sunset from the balcony was simply amazing. However we were a little too late as the sun was nowhere to be seen but its aura. Nonetheless, it painted a beautiful canvas for me, and that was worth it.
Humble but good dinner
All meals in Laban Rata Resthouse (buffet dinner!) and Mesilau Nature Resort (steamboat dinner) were redeemable with coupons provided when we first checked into Mesilau Nature Resort. Starving, we must be, for we had climbed 8km for 8 hours. Buffet dinner was an excellent idea, thoughtful or not. That homeliness of hot wintermelon soup warmed my heart and soul and it was a blessing to have hot steaming soup and decent dinner to be served here (3273m above sea level).
Yellow daisy at 3273m above sea level!
If I were to complain about Laban Rata Resthouse, it would be the lack of electricity at this altitude. Imagine having to shower with no heater (say, 10-15 celcius?), I couldn't even wash my hands for more than 3 seconds. Nonetheless I managed to brush my teeth and wash my face (struggling hard!). Moreover, the blanket and bedding was thin and barely sufficient to keep me warm in air conditioned room.
We both made it!
Our journey had not come to an end, for it would be another 2KM the next day in the middle of the night, in the veil of darkness. Sleep, we shall!