As the title says, it was a total tummy-bloating food review.
No fighting, No unattended demand
Many thanks to Melium Group marketing team - Jasmine, Sheryn, and Lee Ju for the awesome dinner!
Not only we have whole lot of Awesome dishes for try-out
Most important the serene and windy environment of the new
Dome Cafe
.
It gives me the impression as if we were dining along the beach :p
For it is just located at the main entrance of Gardens mall, facing Mid Valley and the fountain!
Most of us would think of Starbucks, Coffee Bean when we want some Coffee.
But many does not know that Dome serves good coffee too!
If you do notice, their Homepage claims they have Finest Coffee as well!
Personally I like their Signature Espreski Coffee Drink
HoneyComb Goldrush
Blended and topped with Honeycomb (layered with sweet and Sinful chocolate)
Good for those with Sweet tooth for it is REAL sweet and Chewy at the same time!
If you prefer much texturized drinks, Dome Espreski is just the thing for you for it tastes better than Java Chip :p
This time round, I had something different but more or less the variation of HoneyComb
Caramel Nut Crunch
Pretty similar to HoneyComb but not as sweet as that.
For those whom love nuts, this would be a better choice.
For those whom don't fancy nuts, then you will dislike taste the strong flavor of peanuts.
According to Sheryn
Dome uses imported farm cow milk from Australia, which would give smoother finishing to their Drinks, and I find that it is pretty true!
Dome top dishes are Gourmet Chicken Puff, Fish & Chips, Nasi Lemak, Spicy Olio Pasta, Catch of the Day, and Lot Burger.
Dome has introduced "10 Iconic Dome Classic" and better still

you can win yourself the BUY-1-GET-1 vouchers, which I would give out in the next post!
Let's see what are Hitomi's Recommended!
Top Dish One - Gourmet Chicken Puff
Xiang
said this is the RECOMMENDED one but it ended up the puff is too soft because we have more than 8 photographers in the team.
Poor puff
*shake head*
Deep inside the puff, it is the Steamy n Creamy Mushroom Chicken Soup
Imagine if the puff is crispy and dipped into the soup with soft chunks of Chicken, it is just Perfectooo!
Top Dish Two - Spicy Olio Pasta
This is my Favorite!
*raise leg to agree*
Every time I took a bite into it, I have the sense of Satisfaction due to the special taste of fresh herb.
Though it might be bit oily and not too spicy to your expectation, I still love it!
Top Dish Three - Minestrone Soup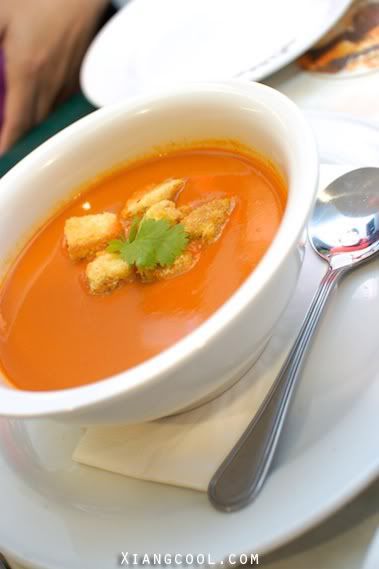 I was told it is Tomato soup but in fact, it is not.
However it tastes sour, something that I would like as my appetizer.
The fresh crusty bread is just the nice match with the watery texture of the soup.
Top Dish Four - Lot Burger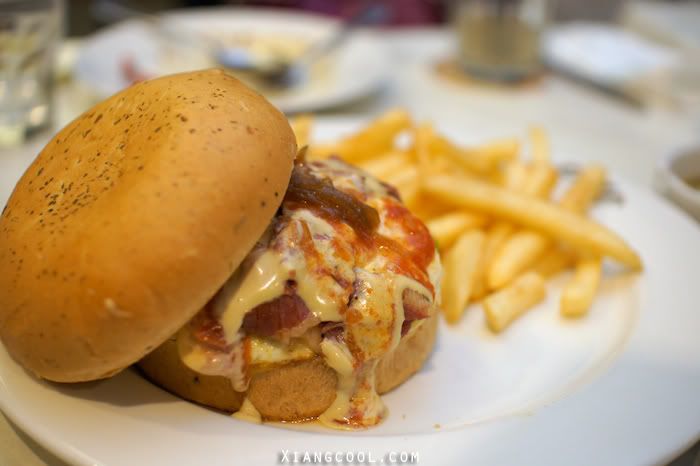 Super thick but easily chewable Beef patty topped with slightly sweet & not too sour gravy, bacon, cheese slice, and egg.
A totally different taste for burgers. Not too bad, but eating the patty alone is not advisable as it is too salty.
There are too many dishes around but of course, I didn't get to eat all of them.
Here are some I have tried.
From left: Cheese Nudget, Tomyam Pasta, Nasi Lemak
Cheese Nudget is too salty but I believe it would be best paired with beer :p Oh ya, Dome do sell beer!
As for the Tomyam Pasta, it does not taste Tomyam at all but truly spicy! I would say heavy flavored and they give plenty of Mussels and seafood.
The Nasi Lemak is just normal but if you are craving for some Asian food, this would be good to go for.
From top: Catch of the day, Fish & Chip, Asam Fish
Catch of the day comes with butter dressing, and spice rice
Asam fish with Aca
Both are quite normal to my liking.
I didn't get to try Fish & Chip though.
To those whom are totally calories conscious, you might be interested to try out their salads and sandwiches
This is Caesar Salad with their own Classic caesar dressing - Nutty but sour - I find it pretty enticing
We have appetisers, snacks, main, and now it is time for some Desserts :p
The one I love best is Chocolate Brownie!
It might looks normal but the fact is it comes with two layers - One smooth chocolate and one nutty chocolate cake
Totally SINFUL and if I were not full, I would have all for myself, if that is possible!
Another worth trying is Marble cheesecake.
I love cheesecake, which comes with a layer with biscuits based.
At least it is not too filling with all the Cheesiness!
As for the Carrot cake, it is too texturized and not as nice as expected.
Here we were, at Dome Cafe, Gardens.
Anyone interested to win 3pairs of BUY-1-GET-1 vouchers?
Stay tuned!