Relationship is complicated.
when we Come across blood relationship, we Have no Bladdy control.

Agree??

You can't decide which family to born into, what kind of parents you want, what kind of siblings you have etc etc etc

You are fate bounded.

*sigh*

In terms of latter, relationships are never easy.

Friendship, to a certain extent, it is You who choose who to get along with; to a certain extent, you might feel obligated.

Boy & Girl relationship (BGR) is somehow Wayyyyyyyyyyy complicated than you thought it might be

However, it seems like Astro & LG blend together pretty well.

In fact, it is a Great COllaboration!!

In bringing in High Definition experience to each and every Astro users...

That is how brilliant Business mind can be

*ehem ehem, I know I am*

Courtesy of
Nuffnang
, Me, being one of the Bloggers were privileged enough to witness
Malaysia's First High Definition Television Commercial for Astro B.yond
during
AStro B.yond Bloggers Night
at Modesto's Sri HartaMas.
*Though I got lost in the Journey and eventually Late but I was there right!!*

thanks to Suresh for Guiding me

*wiNk*

When you talk about photography, I would say Get yourself a Digital SLR;

*see the details on
SmashPop
face - this is exactly what Digital SLR can do better than a normal Digital Camera*
When you talk about Television Visual, I would say
Get yourself AStro B.yond!!
The same theory here : Better quality comes from better COnvention.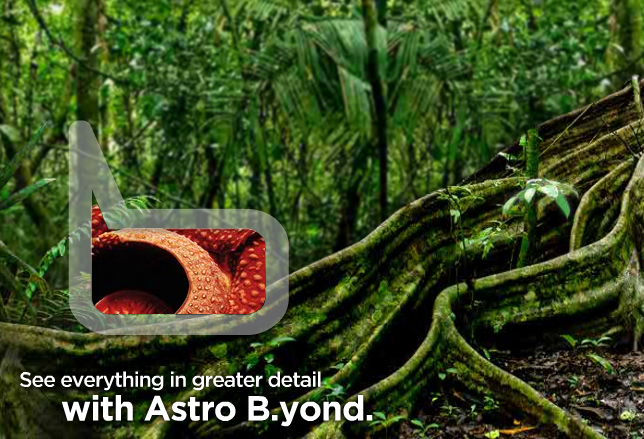 And that explains why you have to Pay moreee for it.

If you are existing AStro users, I have a great news for you

You can just TOP UP RM20 monthly to enjoy HD experience for Sports, Movies, National Geographic

*requires 12months commitment*
But you get this Freeeeeee

This is how Good to be a Blogger

You get invitations to exclusive events,

You get free F&B

*Pasta, PizZa, beer*

you get to be featured

you get to Meet moreeeeeee bloggerss

we are like a Big family, and we just like to have FUN!!

The atmosphere is Tranquil, despite the fact that it is More like a club

with latest Music spinning whole night

the Photographers

Eventually My battery died half way LOL

the Performance

What an exotic hair style

the Band consists of different races from different Cultures, this is the real SATU MALAYSIA

Though I have no idea what instruments are they playing, but the performance is simPLy stunning!!

In conjunction with the introduction of Facebook Game for astro B.yond, we, the first batch of
"White mice"
had got the chance to Play
"Murders in the details"
and win FREEEeeee astro b.Yond set!!
*imma the Murderer*
TOo bad, our team Lost

The winning team had to fight against one another to win the Astro b.yond set.

what a DOG-eat-DOG competition
KY is one of the Dogs :p

But he was the dead meat

*phew*

I guess even if our team won, I sure lose in the Q&A session

It was always fun to hang out as bloggers...
and we Could win prizes by BLogging about it


I just can't wait to win One for Myself..

See, even the emCee is so Enthusiastic about it!!

how COuld we not being the same??