Here comes the second part of Bukit Bintang Streetshoot. It says
"RanDoMity"
*wHen liNearity has been ChaLLenged*
I guess pretty much of you guys love the first part,
Bukit Bintang Streetshoot - Skies
, so I hope this won't disappoint you either.
*Should I go left or Right for taxi??*
Walking along Bukit Bintang, searching for random stuffs to be shot
*It is always jamming, busy*
It was hot, but after all, it was worthwhile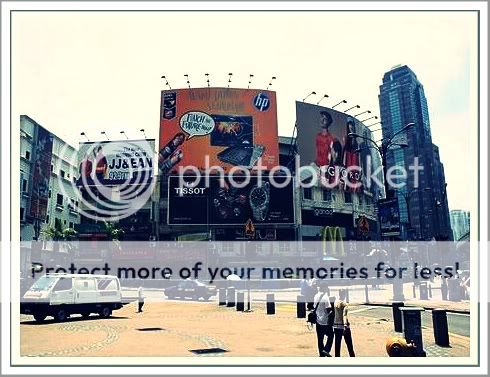 *skyscrapers, people, and automobiles*
Perhaps I need to get myself a cap
*Need soMe shade?*
It was good to have companies along, at least I was not alone
*BomBa pipe & pHotographer*
wonDer which part of Bukit Bintang??
*KL monorail* as it says
Regardless of where you are, Safety first
*waiting it to turn

Green

*
Regardless of who you are, I want to say,
Do not smoke
*smoking is bad for health*
wHen it went green, we waited,
why rush??
*it will turn red when time comes*
a Brand new perspective it is
*where am I*
-
have you ever know what is it??
As we wandered around, we spotted this
*graffiti* -

Guess what we did over there??
ah, Do correct me if I am wrong
*daNcer or Danger*
The sun has shone mercilessly nevertheless
*striking beauty*
- hardly compellable
But we should not give up
*Move on*
But we did stop for rest
*Rest because we have a longer journey to proceed*
so Take a break
*starbucks, anyOne??*
So shall I end this post with tHis ranDom liGht picture
*Light trace*
tHis is not the end, but the end is yet to come.