Apparently Hitomi is at work, partially distracted by the availability of internet access from My suppposedly-be-done-Financial-reporting-tutorial-to-be-presented-tomorrow.
Oh My...suddenly this Idea - online shopping - popped up to me, and so I googled it.
Found pretty much interesting clothes to be shopped - Erm...I see see can La!!
1#
Girlish Rainbow Tier Layer Green Dress (Rm 35)
Seriously Super Kawaii Ne...
2#
Lovely Black Polka Dot Off Shoulder Top
(Rm 32.90)

Eeee...

I want I want


3#

Colorful Chiffon Silk Tube dress skirt (RM 60)

Tell you what - this is super flexible - you can wear it like this or this>>>

PrinCess is Coming~~
4#
Fabric: Knit Cotton + Rabbit Fur (RM 45)

Pretty pretty...don't think is suitable for Malaysians - konon konon is so HOT wei
5# Gorgeous,Sexy, Clubbing Coffee Tube Halter Top Shirt
(RM29.90
)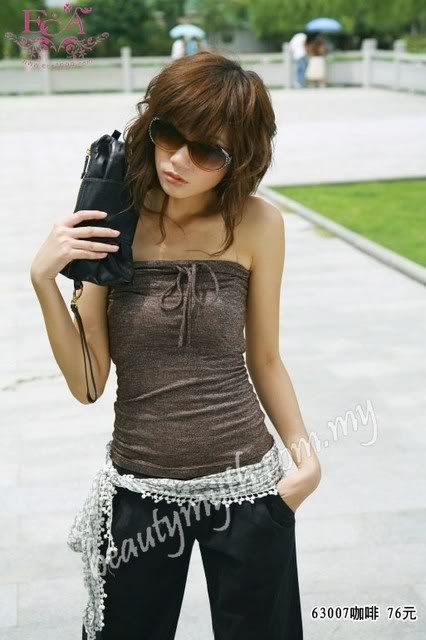 Mysterious yet Sexy - and the price is Great!! Will grab one if I saw any of this
6# Japan Unique Black Button Mini Tube Dress w/Belt (RM55.90)

Black - how could I not adore you??
7# Vogue Black Off Shoulder Top (
RM32.90)

Sexy - super sexy

What do you think of my Window Shopping today???
Zheng or not?? Most of them from
http://beautymyth.com.my
Ok...better get back to my Tutorial - or else - I will die kao kao...